Well the 9 part franchise has finally come to an end.  There is probably no franchise so beloved that is actually fairly bad (on any criteria that defines a movie), with perhaps the exception of Arby's.  That's right, I'm saying it. Star Wars are B movies. Now I'm not saying I don't feel a certain degree of joy watching it, and there is nothing wrong with watching B movies, but from a storytelling and movie making perspective, it's got a lot of problems.
Star Wars is the classic good vs. evil tale, but there is no complexity to it at all.  Either you like freedom or you don't. Either you want to hurt people and are evil, or you don't want to hurt people and you're good. If a planet isn't a criminal run planet in chaos, your only other choice seems to be monarchical rule.  A system of governance that opens itself up to despots and authoritarianism and thus we shouldn't be surprised that good can turn to evil.  Or you have totalitarian, theocratic, dictatorship. We are first led to believe that there is a senate that is representative of different worlds. This governing body seems to be totally without any governing powers.  Nobody seems to have any political position.  There is an argument over a trade blockade.  Allowing commerce to proceed is fine, but it's hardly a political ideology. I mean even as one planet we have far more competing ideologies than this entire galaxy seems to have.  Once Palpatine takes over, he has no real manifesto. He's just a bad dude who wants to hurt people.  He wants to make people live in fear of the might and power he controls.  This is cartoonish villainy which is why these movies are largely for children from about 8-14. The mildly comical antics definitely solidify the movies into that age range as well.

And what are the good guys really about? What do they really believe in? In their off time, most of the good guys seem to enjoy either informal dance parties, or award ceremonies.  I would agree that societies should be free to have such things, but it's hardly a meaningful ideological position.  I imagine if the Empire wanted to have dance parties and award ceremonies that could do so as well, just about different things. What are they doing to ensure any kind of lasting peace? If there is one thing we've learned is that the dark side of the force is easier to fall into that a blindfolded man at the edge of the Grand Canyon.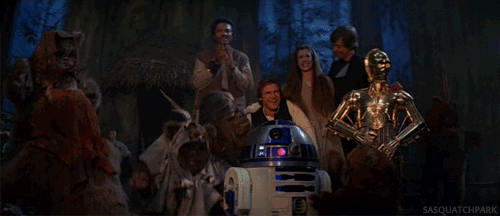 One of biggest problems with the movies is how easily Anakin Skywalker falls to the dark side.  Let's review. We have this little kid, who initially Yoda doesn't want to train. Why? Because he misses his mother. I mean he loves his mom and was taken away from her forever by these adults who can appear to do magic but still need to rely on this mechanical genius kid who helps them from being stranded on one of the myriad of desert planets that people for some reason live on.  It seems pretty standard for a child to miss his mother.  So Yoda's powers of deduction here is hardly impressive. Then Yoda says he's too old, we can't indoctrinate him properly. Eventually he reluctantly agrees, the boy gets trained. Next we meet him as a 16 year old who is impatient and headstrong. Just like every other fucking teenager.  Maybe it's because we know what's going to happen to Anakin that we feel dread, but he's really just an obnoxious teenager played by a terrible actor. You almost can't wait for the mask and James Earl Jones' voice so you can be rid of Hayden Christiansen. But you get through episode II, still hoping that an epic struggle to remain good and loyal to the Jedi Order will happen.
But in Revenge of the Sith what happens?  Despite the fact that he understands the Jedi governance structure from almost his entire young life he gets all upset that he isn't asked to be on the Council.  Even though the council head is fucking 700+ years old, somehow Anakin, in his early twenties gets a branch up his butt about not being voted in on the council.  Meanwhile he's making out with his former babysitter and Queen and has amazing powers to be a force of good.  But it's not enough.  So what is the start of his descent into liking the feeling of his power? Well he goes to Tatooine to find his mother.  He naturally is upset at her death, and when a powerful person gets upset, people die. But who dies? A bunch of slavers.  This is the beginning of evil?  I mean look, I think violence is a last resort, but how is killing a bunch of slavers really the lure of the dark side. And then who does he kill next? Count fucking Saruman.  One of the evilest dudes in two movie franchises, but apparently that wasn't good for his psyche. Even though Yoda or Obiwan would have done the same thing in combat.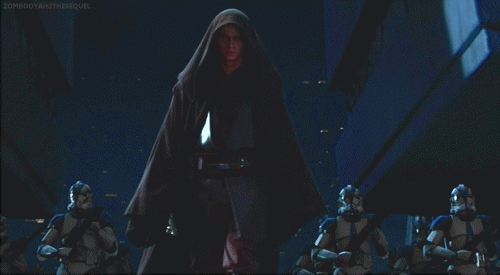 Now he's apparently evil, turns on the Jedi after this, and what's his first target? A whole bunch of fucking kindergartners at the Jedi Academy. The poor kids don't expect a thing. And why should they? He became evil faster than a bored worker at The Gap outlet store asking if you need help. All because in this universe despite the fact that they got lasers, can travel faster than light speed, sophisticated AI and massive language translation programs, but apparently forgot to research medicine to help pregnant women (fucking patriarchy!) and needs Palpatine's tutelage to learn how to heal. Who knows why the good Jedi Order isn't trying to learn this healing technique? I mean it seems like a pretty basic good guy Jedi power to have. And despite seemingly knowing nothing about obstetrics (did I say 'fucking patriarchy!' yet) they do have cloning technology.  What Anakin, a cloned version of Queen Amydala isn't good enough for you? You just had to kill a bunch of kids, because you thought this good person (who's pro not hurting people) would be glad you killed a bunch of kids so you could learn the power to save her life.  That's a serious misunderstanding of what appears to be a fairly simple concept of goodness. So when Darth Vader chooses to turn on the emperor and save his son he remembers back to the good man he once was, he's apparently about 7 years old. Because after that he's pretty much a whiny dick.
But what I realized when watching Return of the Jedi recently that as flimsy as Anakin's fall to the dark side is, the reasons for the main characters being good are equally flimsy.  Luke gets the hots for the hologram of his sister and decides to find old Ben Kenobe. Han has the hots for Leia and decides to help the rebels and give up the rogue life.  All the Jedi simply rely on religious dogma to carry them through to the next day as good guys. Obi Wan is just waiting for 20 or so years to turn into Alec Guiness before doing anything good at all. And Yoda spent the last two decades in a swamp licking his wounds. The fact that Luke is this rare 1 out of several billion people in the galaxy who thinks it would be a good idea to fight a fascist, authoritarian regime is astounding. Because let's face it, the rebel alliance, despite having the whole galaxy to choose from can never seem to muster more than a couple hundred people to attack the empire. And that's when they aren't just letting a chunk of themselves get blown up so that Laura Dern can come out of nowhere and have some stoic music play before she rams her ship into the star destroyer.  I mean here on Earth I could easily get a couple hundred people through Facebook to take up arms against some of the most ridiculous causes.  But government tyranny? There are millions of gun owners in the U.S. itching for an excuse to fight against a tyrannical government.  This whole galaxy far, far away seems to be completely hopeless unless about 200 people are in the middle of a fight first and then go "Hey look they're doing it so I guess I'll get off my ass an help." So how those rebels have any hope at all is beyond me if they can only find a couple hundred people to join the cause.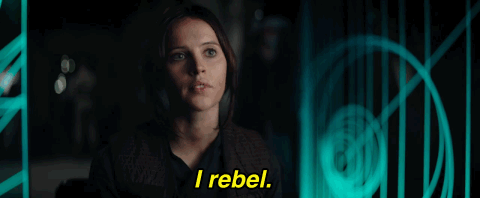 And what about all the ghost Jedi sitting on their asses? Luke Skywalker can apparently raise an X-Wing out of the ocean as a ghost.  Why wasn't he just over on Exegon flinging heavy objects at the Sith instead of getting the people who could actually die do all the work? Obi Wan claimed he would become more powerful when he's struck down. But apparently more powerful just means "voice in Luke's head" and reminding Luke to "use the force" at the right time, and "Go to Dagobah".  Pretty sure you could have done that while alive Obi Wan.  I have no idea why Darth Vader says in "Obi Wan" has taught you well. Obi Wan hasn't done shit.  As far as I can tell, other than a few words of advice as far as he got in the Jedi training with Obi Wan is to deflect a few lasers from a floating ball while blindfolded. That doesn't make you ready to face Vader.
Finally, why is it that despite having droid technology the Empire has all the droids that would actually be useful against a military force, and the rebels seem to only have droids that access computer systems and can speak a lot of languages while moving very slowly from place to place. Literally there were so many jams that they could have gotten out of way faster had they had droids who weren't slowly ambling over to them.  Meanwhile when it comes to fighting droids the empire has legions of them.  Does the state control the means of production? Are we talking about some Soviet Union-like Empire?  Perhaps so.  My point is some angry fighting droids could have been a real help for a cause that can only scrounge up a couple hundred people from an entire galaxy.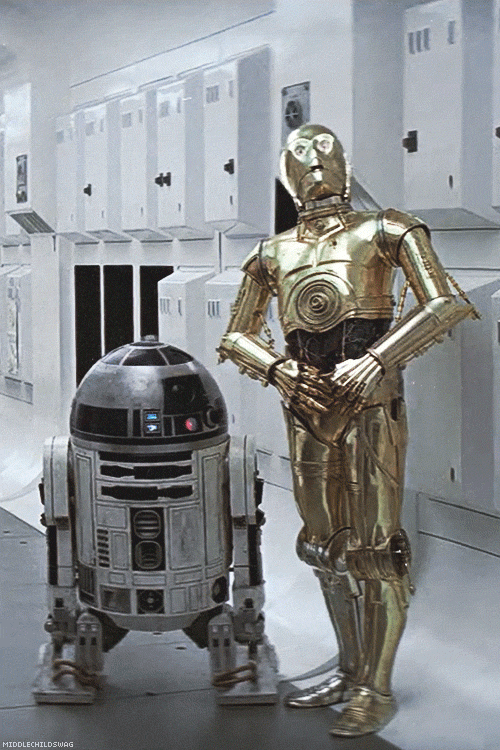 There are many common complaints I haven't dealt with here. For instance many people say the writing is terrible in later movies. This is wrong. It's all pretty bad. If you don't think the writing in the original movies was bad it's because you're looking through it with a nostalgic lens. This isn't rich writing with complex characters with a complex history, or complex relationships with each other.
Now if you're a big Star Wars fan you are probably full of counterarguments, and I'm here to tell you they are all wrong, and if you want to tell me that if I really want to appreciate it all, I need to read some nerdy set of books, that is also wrong. Star Wars is a movie experience.  Also you should really just read my next part about why Star Wars is good.